19 February 2015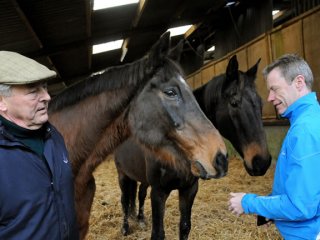 Driving down to see Rough Quest today brought back some great memories of previous visits to Henfold Stables. One memory was of the first time I came down to the schooling ground at Box Hill midweek, I had been down previously on a Sunday and the traffic was a breeze, however, getting through Bracknell and the M25 is not so easy during the week! I think I arrived 1/2 hour late much to the non-amusement of Terry Casey, but it made me smile thinking of him.
I then got to thinking what a lot of success I have shared with the Wates family. Ritz Club Chase win with Rough Quest at the Cheltenham Festival, 2nd in a Gold Cup, placed in two King George VI chases and of course one of the best days of my life when winning the greatest prize of them all in jump racing, The Grand National. For that I will be eternally grateful to the Wates family for giving me the chance to really launch my career.
It was a real treat to see Rough Quest looking so well aged 29. I really think he is a credit to everybody involved in his care. These horses are warriors who give their all for our enjoyment of this great sport and it's only right they are treated accordingly when racing is over for them.
Kind regards
Mick